– TOUR C –
UNTOUCHED NORTH COAST
The island's most dramatic hike, from the western edge of Maunga Terevaka around the North Coast to Anakena beach. Approximately 11kms (7 miles) in length, this walk explores the only part of the island coastline with no vehicle access, meaning that little has changed here in the last 200 years. Spectacular scenery, extensive archaeological remains, caves, petroglyphs and no one else around… this hike is highly recommended those who relish getting off the beaten track. Relatively flat terrain throughout, and private transportation included at each end of the walk. TOUR MAP: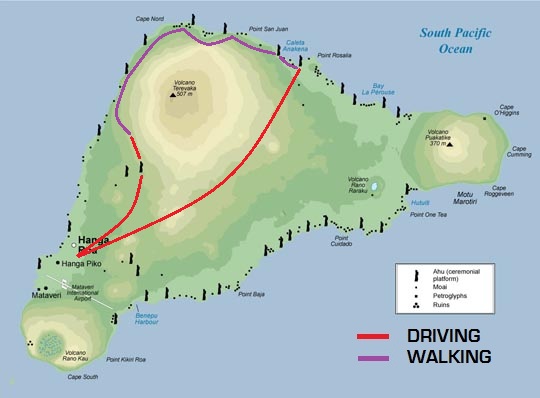 SITES VISITED:
Ahu Maitaki Te Moa
Ahu Vai Mata
Ana O Heu cave
Ahu Atanga
Hanga Oteo
Anakena Beach
---
NOTES:
This is isolation on Easter Island at its very best! Bring hat, sun cream, snacks and plenty of water.
This hike requires average fitness and endurance. Not recommended for people with limited mobility.
All prices are TOTAL prices. The National Park Entrance Fee is not included, since all visitors are now required to purchase their pass on arrival at the airport.
---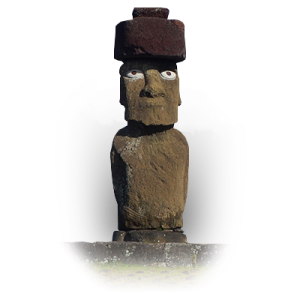 For more information or to book this tour, contact us below:
CONTACT US
1 PERSON
Pick up and drop off from your island accommodation

Total duration: approx. 7 hours (5-6 hours walking)

Lunch not included, although there are several small restaurants at Anakena beach (at the end of the hike) selling food and drinks
2 PEOPLE
Pick up and drop off from your island accommodation

Total duration: approx. 7 hours (5-6 hours walking)

Lunch not included, although there are several small restaurants at Anakena beach (at the end of the hike) selling food and drinks
3 PEOPLE
Pick up and drop off from your island accommodation

Total duration: approx. 7 hours (5-6 hours walking)

Lunch not included, although there are several small restaurants at Anakena beach (at the end of the hike) selling food and drinks
4 PEOPLE
Pick up and drop off from your island accommodation

Total duration: approx. 7 hours (5-6 hours walking)

Lunch not included, although there are several small restaurants at Anakena beach (at the end of the hike) selling food and drinks
TU'U KOIHU S/N

,

HANGA ROA
ZIP CODE / POSTAL CODE: 2770000