– TOUR E –
POIKE: THE FINAL FRONTIER
The easternmost peninsula, and also the island's oldest volcano (approx. 1 million years), Poike is the least visited part of the island due to absolutely no vehicle access. With its dramatic cliffs and spectacular scenery, this volcano also holds some of the island's unique archaeological vestiges: your highly experienced guide will show you Vai A Heva, a water catchment carved into the rock and Ana O Keke – the Virgins' Cave, together with moai and ahu (ceremonial platforms). TOUR MAP: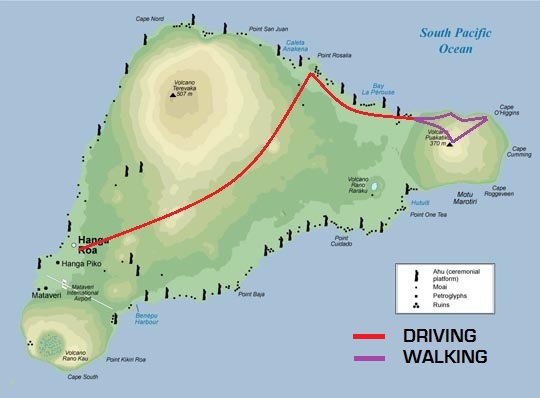 SITES VISITED:
Maunga Parehe
Ana O Keke cave (weather permitting)
Vai A Heva
Pua Katiki crater
---
NOTES:
Bring hat, sun cream, snacks and plenty of water – expect to see nobody else during the entire walk!
This hike requires average fitness and endurance. Not recommended for people with limited mobility.
All prices are TOTAL prices. The National Park Entrance Fee is not included, since all visitors are now required to purchase their pass on arrival at the airport
---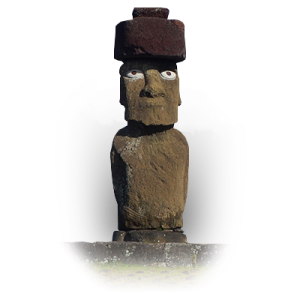 For more information or to book this tour, contact us below:
CONTACT US
1 PERSON
Pick up and drop off from your island accommodation

Total duration: approx. 6 hours (4-5 hours walking)

Bring all water and snacks due to the sheer isolation here
2 PEOPLE
Pick up and drop off from your island accommodation

Total duration: approx. 6 hours (4-5 hours walking)

Bring all water and snacks due to the sheer isolation here
3 PEOPLE
Pick up and drop off from your island accommodation

Total duration: approx. 6 hours (4-5 hours walking)

Bring all water and snacks due to the sheer isolation here
4 PEOPLE
Pick up and drop off from your island accommodation

Total duration: approx. 6 hours (4-5 hours walking)

Bring all water and snacks due to the sheer isolation here
TU'U KOIHU S/N

,

HANGA ROA
ZIP CODE / POSTAL CODE: 2770000