– TOUR G –
HIGHEST POINT & BEYOND
This is the truly unique route up to the island's highest point, and includes much more archaeology than the regular hike up and back from Ahu Akivi. Beginning at Maunga Pu'i, the walk follows one of the few streambeds on Easter Island (running water and waterfalls after heavy rains) and passes by Ava Ranga Uka, site of the island's most recent archaeological dig, where water was seemingly collected in man-made reservoirs. You then arrive at Rano Aroi, the island's third crater containing freshwater, before finishing at the peak of Terevaka, 507m above sea level. From the top you can see the whole island, giving an amazing sense of just how isolated it is here. The descent is a gentle walk back down, finishing at Ahu Akivi, the restored site of the 7 moai, and the island's largest inland platform. ---
MAP TOUR: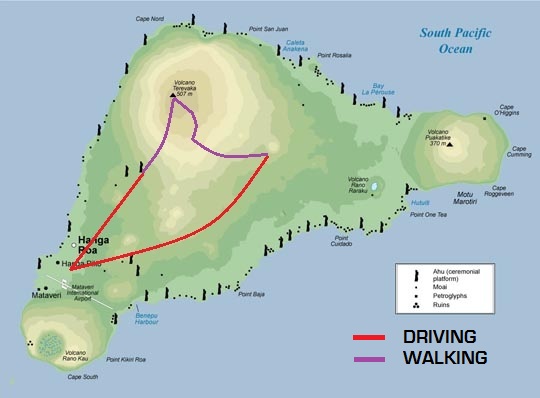 SITES VISITED:
Ava Ranga Uka
Rano Aroi
Maunga Terevaka (highest point)
Ahu Akivi
---
NOTES:
Bring hat, sun cream, snacks and plenty of water. Consider bringing a light jacket – it can sometimes feel cool at the peak of Terevaka.
This hike requires average fitness and endurance. Not recommended for people with limited mobility.
All prices are TOTAL prices. The National Park Entrance Fee is not included, since all visitors are now required to purchase their pass on arrival at the airport.
---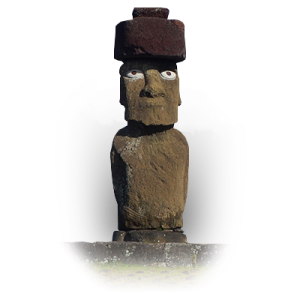 If you are interested in this tour contact us
CONTACT US
1 PERSON
Pick up and drop off from your island accommodation

Total duration: approx. 5 hours (4 hours walking)
2 PEOPLE
Pick up and drop off from your island accommodation

Total duration: approx. 5 hours (4 hours walking)
3 PEOPLE
Pick up and drop off from your island accommodation

Total duration: approx. 5 hours (4 hours walking)
4 PEOPLE
Pick up and drop off from your island accommodation

Total duration: approx. 5 hours (4 hours walking)
TU'U KOIHU S/N

,

HANGA ROA
ZIP CODE / POSTAL CODE: 2770000